De Kock refused to take knee over authorities' 'interference'
BBC Sport
-
9/21/2023 5:25:25 PM - GMT (+4 )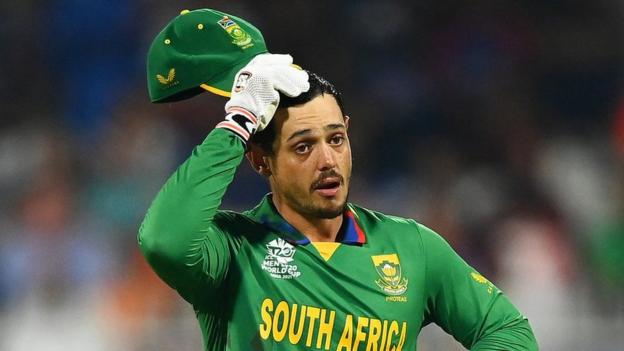 Quinton de Kock says he refused to take the knee at the 2021 T20 World Cup because of interference from Cricket South Africa (CSA).
The 30-year-old made himself unavailable for South Africa's opening match against West Indies as a result.
Explaining his decision for the first time, De Kock says he wanted to stand up for his team-mates and their right to have their own say.
"We are not just pawns to CSA," De Kock told the BBC's Stumped podcast.
At the time, the decision caused major debate with teams across the world in all sports and societies taking the knee following the death of George Floyd, which sparked the start of the Black Lives Matter movement.
Following his omission against West Indies, De Kock released a statement in which he apologised and said "I am not a racist", before returning to the team for the rest of the tournament.
"We all had a choice, when the Black Lives Matter thing came up, the team, we all discussed it," De Kock said. "We thought as a team, we can all have our own views on it.
"A couple of us made a decision not to get on the knee, but we were in support of the guys who were because we understand their background.
"We got the directive from the top - it was the whole scenario, they told us on the morning of the game. How they are instructing/interfering in our team culture when they should be worried about bigger things than the protests, it just didn't sit right with myself and couple of other guys in the team.
"It's not objection, it's about you've taken someone's right away, who are they to force someone to do it? It doesn't matter if you are my boss, unfortunately in cricket, it doesn't work like that.
"The way of the world in which cricket works now, cricketers are becoming their own bosses now to a point. You think you can tell a player what to do, you expect them to listen to you. I can promise you that most players will turn around to you and say no, that's not how it works.
"I wasn't going to let someone take my rights from me and unfortunately, it was in a public space which at the time it was quite stressful, but I thought what I did was right - not just for me but to show the team that you can stand up to what is right and what is wrong and for your rights as a player.
"It was more of a bigger picture for me."
read more